Abs / Core Classes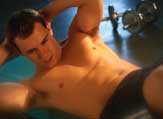 "These classes are a favorite - I teach a 20 minute and 30 minute format for group classes and I also do private 30 minute Abs/Core Lessons. It goes by surprisingly fast. The students are great and I love it."


"The worst thing about Rebekeh's abs class is how effortlessly she does things that put you in excruciating pain. That said, I have been consistently lifting weights and doing my own form of abs for 14 years and nothing compares to her class. She packs more into to 20-30 minutes than I used to do in three 30 minutes sessions. The results are unparalleled. " Chris Peel
Rebekah's Abs/Core class entails working the 6-pack- rectus abdominus, along with obligues, transversus and back-side to balance it out. Traditional Abdominals along with some fun core-strengthening guaraneed to help your golf swing, prevent back pain and flatten the belly.
Rebekah continues to describe the class, "I refer to it as Abdominal Endurance. CHIN-NING CHU says - 'Without the strength to endure the crisis, one will not see the opportunity within. It is within the process of endurance that opportunity reveals itself.'"

How will the client benefit:
Develop a strong core
Flatten your stomach
Provide trunk (core) stability
Reduce the likelihood of back pains
Provide protection against injury by efficient response to stress
---
Quotation
The core is the body as the mitochondria is to the cell.
Rebekah Aramini Lupo
---
---
Whatelse can I do:
Watch what you eat- some foods create inflammation in the gut. GIve a green smoothie a try.
---