Recipes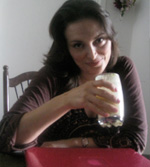 Cauliflower Mash - a healthy alternative to Mased Potatoes
Raw Cauliflower florettes – I usually get about 4 heads which is about 4 lbs.
¼ cup almond milk or you may use regular organic milk or what you prefer
fresh organic garlic - minced
himalayan or sea salt and pepper
fresh organic chives
¼ cup water

Preparation: Wash Cauliflower. In a large pot add the water and garlic. Let it simmer for 10 minutes. Then add cauliflower. Turn-up the heat and let cook for 20 minutes depending on your stove top. Allow the cauliflower to soften completely and then mash it up. Add salt and pepper and enjoy. Chop chives and add as a garnish. You may also choose to add organic fat-free sour cream or cheese depending upon how you wish to serve them. Serves 8-10.
Portobello Patties
1/4 cup Sprouted Flax Powder
2 Tbsp. Heeps Seeds
1 Tbsp flax oil or olive oil
1 ½ Tbsp Braggs Amino Acids
1 tsp pressed garlic
½ tsp black pepper
2 Tbsp organic chopped parsley
½ tsp organic chopped thyme
¼ cup chopped walnut pieces
2 Tbsp nutritional yeast
1 tsp mustard (stone-ground brown mustard)
2 medium portobello mushrooms, broken into large pieces
In a food processor, combine all ingredients except walnuts and mushrooms, and process until a dough has formed. Turn off the processor and add in the walnuts and mushrooms. Pulse 3 or 4 times until the mushrooms are just diced, but do not blend. Removed the mixture from the processor and transfer to a medium bowl.
Preparation: Raw method (best): On a texflex sheet, squeeze the mixture into 8 balls and flatten into patties on a sheet. Dehydrate for 10 hours, then flip and transfer to a mesh sheet and "cook" for 2 more hours. Cooked : Squeeze the mixture into 8 balls (press firmly to compact) and form into patties. Over very low heat, oil the pan with 1 or 2 Tbsp coconut oil. Add the patties, and cook approximately 10 minutes on each side. Serves about 8
Oh Yum this is a favorite- Green Smoothie
Check it out under Smoothies.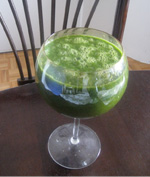 Lettuce Wraps
2 very ripe avocados
3 tomatoes, diced
1/2 jalapeno pepper, diced
2 tbsp yellow onion, diced
3 cloves fresh garlic, minced
1/4 cup fresh cilantro, chopped
kernels from one ear raw organic corn
2 tsp fresh lime juice
6-8 large romaine lettuce leaves
In a bowl mash the avocado. Add remaining ingredients and stir until well mixed. Spread 2-3 tablespoons of this mixture onto lettuce leaves and wrap. Enjoy!
MY TIPS...
"Each individual should find a fitness repetoire that works for his/her life style and needs. Explore options and seek out expertise. Then make a educated choice to find something you and your body enjoys." Rebekah Aramini Lupo
Add fresh, organic veggies and herbs to your meals whenever you can.
HYDRATE - Drink half your body weight (in oz) in water everyday
Clear your mind - Meditate everyday - start with 1 minute
Take the time to take care and love yourself.
Give back the good energy you recieve. Send it into the world and to everything around you.
Give Dry Skin Brushing a try
Cook with virgin cold-pressed coconut oil - it's yummy and so good for you
---
Quotation
The power of God is with you at all times; through the activities of mind, senses, breathing, and emotions; and is constantly doing all the work using you as a mere instrument.
Bhagavad Gita