Pilates and Rebekah in the NEWS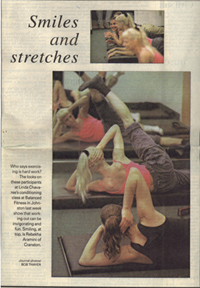 Providence Journal Bulletin - Bob Thayer
Smiles and Stretches
Who says exercising is hard work?
Rebekah smiling in Piltes Mat Class - Teacher/Student
YMCA closing was shocking to seniors
Hudson Reporter - Letter to Editor
We seniors are former members of the YMCA, which closed abruptly March 19. We lost our four day-a-week exercise classes for seniors which included yoga, aerobics, and weight training, all taught by our marvelous instructor, Rebekah Aramini Lupo. For us it was shocking that something so good was so unceremoniously taken away from us....read the full article.
Time to Get in Shape Seniors
Hoboken 411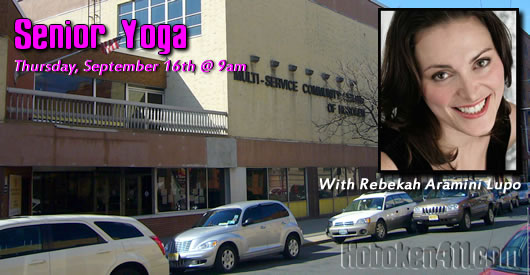 ..At the Multi-Service Center (2nd & Grand) – a yoga class just for Seniors "55 and over." The class will be run by fitness instructor Rebekah Aramini Lupo, who says "Wellness and fitess should be a discovery process not a chore. There is magic inside each of us – we just need to tap into it to allow it to be realized." She specializes in Pilates and Yoga.

Also big ups to Tom Foley – who runs the Hoboken Division of Senior Services. Read the article at: http://hoboken411.com/archives/49602.
Click to join Body Illumination Yahoo Group and joing discussions with Rebekah and others
---
Quotation
There is neither this world nor the world beyond nor happiness for the one who doubts.
Bhagavad Gita