Spinning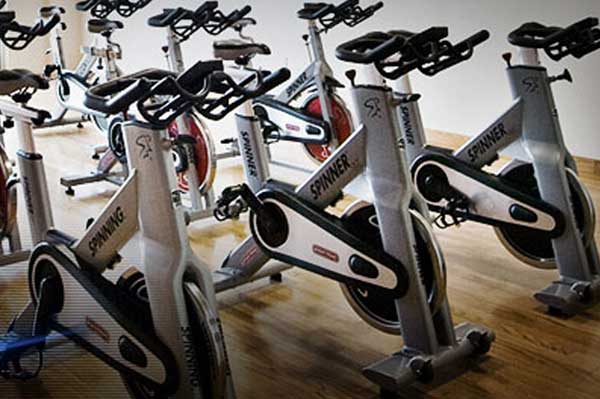 Rebekah started spinning in when it first hit the fitness clubs in the 90's. She was teaching at Suburban fitness. Suburban was an early adopter to the Spinning program.
"The program has evolved so much. It is tailored to suit a wide range of abilities and fitness goals, delivering a personalized workout, incredible calorie burn and personal challenge—all at a self-directed pace", Rebekah shares, "and iIt is so much fun."
Rebekah's classes vary depending on the goal – it may be energizing and exciting with high-cardio sprints or very focused and therapeutic with intensely challenging hills.
SPINNING VS. CYCLE:
Spinning is a unique indoor stationary cycling program created in the 1980s by world-class cyclist Jonathan Goldberg, a.k.a. "Johnny G." The Spinning program brings the elements of athletic training to people of all ages and fitness levels and is NOT just a "hard-core" fitness program for elite athletes. Instead, this efficient, high-energy group exercise integrates music, camaraderie and visualization in a complete mind/body exercise routine. Participants use specially designed Johnny G Spinner® stationary bikes.The Spinning program combines heart rate training and a series of movements to give participants an unparalleled workout. Certified Spinning instructors undergo a rigorous and comprehensive training regimen that focuses on both athletic and motivational coaching techniques. They also receive extensive safety training, as well as ongoing continuing education courses to update them on the latest developments in the Spinning program.


Cycle Reebok is an indoor stationary cycling program that has become one of the most popular workouts in fitness studios and health clubs around the world. Cycle Reebok is an exhilarating, body changing class that integrates music, motivation and inspiration for a terrific cardio-vascular workout.

This workout welcomes newcomers and challenges even the most seasoned athletes. Cycle Reebok is used by the fitness client as a training platform for regular sporting activities and a new and effective exercise that complements their current cross training program. It is a fun and challenging exercise that appeals to both men and women of all fitness levels.

Since the Reebok Studio Cycle entered the rapidly growing indoor cycling segment, over 200,000 students have pedaled more than 15,000 of the custom-made cycles in 850 clubs worldwide. Now, the high performance Reebok Studio Cycle is headed to fitness facilities in the military, corporate wellness centers and universities, along with a complete line of apparel and accessories..
"I have been taking taking Yoga and Spin classes from Rebekah since 2006. I find her classes inspiring and invigorating. When I come out of some spin classes, I feel winded (like I need a rest); but not after Rebekah's spin classes. AFter her spin classes, I feel I've worked hard, yet I'm energized to continue the rest of my day." Sandy Singh
How will the client benefit:
Improve Cardiovascular health
Burn Caolories in low-impact enviroment
Tone lower-body
Strenghten core -
Enhance positive attitude
Improve breathing- lung capacity
Have fun!
---
Quotation
I've taken Rebekah's spin and yoga classes, and she is truly a great teacher. She's knowledgeable and she's generous. Unlike some instructors who are more concerned with getting in their own workouts during class, Rebekah pays attention to each student to make sure everyone is doing the moves correctly--stepping in and adjusting to make sure everyone is getting the best possible workout.
Linda Rogers
---
"...any form of exercise, if pursued continuously, will help train us in perseverance."
Mao Tse-Tung
---