Senior Fit, Senior Yoga, Silver Sneakers- MSROM, Cardio Circuit and Yoga Stretch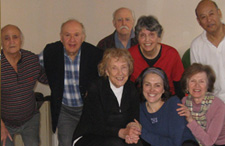 SilverSneakers is a fun, energizing program that helps older adults take greater control of their health by encouraging physical activity and offering social events.
Rebekah describes the classes, "This is a wonderful, proactive program that is offered by many health plans. Check to see if you or a loved-one is eligible for Medicare or group retirees. It includes a fitness center membership to and center that participates."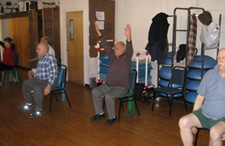 "I teach a Silver Sneakers Yoga class and Aerobics / Toning classes. The participants are amazing. We have so much fun. We play fun games in class, while doing our aerobics and weights. In the yoga class, we focus on breathing, movement, stretching and so much more. I remind the class to move your body to get the lymph moving. It's fun and feels great."
Unlock the door to greater independence and a healthier life with SilverSneakers. Health plans around the country offer our award-winning program to people who are eligible for Medicare or to group retirees. SilverSneakers provides a fitness center membership to any participating location across the country. Go to www.silversneakers.com for more information.
SilverSneakers® Muscular Strength & Range of Movement
This class offers something for everyone, regardless of fitness level, and can help improve overall strength and flexibility - helping you stay healthy and independent. As in other SilverSneakers classes, the instructor guides you through the exercises at your own pace.
Cardio Circuit
Aerobic or cardiovascular exercise is the highlight of SilverSneakers Cardio Circuit. The class features upper-body strength workouts using hand-held weights, elastic tubing with handles and other fun accessories in non-impact aerobic activity. A chair is available for support and easy head-to-toe stretching.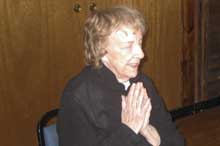 SilverSneakers® YogaStretch
SilverSneakers offers a special yoga class in which you learn gentle, effective stretching that can help maintain joint flexibility and prevent injury. Stretching can also help improve muscle tone and help you relax, both physically and mentally.
"For someone much younger, Rebekah knows how to connect well with the seniors in our Silver Sneakers classes. In spite of our perceived physical limitations, she inspires us to improve by her encouragement and empathy. We feel safe under her care.

Her depth and breadth of knowledge (yoga, Pilates, aerobics, weight training, boxing, etc.), her preparation, her imaginative explanations, and her nuggets of wisdom are all woven into the texture of the class. But what I love is the accompanying music from her iPod playlist. It is always changing, appropriate for the activity and adds a very important dimension.

We leave her class with an expansive feeling that we carry into our daily lives. And our bodies are stronger and more flexible!" Eileen Julian
Benefits of Silver Sneakers:
Increase Flexibility
Increase Energy Levels
Helps Postures
Increase Strength
Enhance positive attitude
Improve breathing
Increase lubrication of the joints, ligaments and tendons
Detoxify
Tone muscles
Sharpen Concentration and Focus
Enhance positive attitude
Improve breathing- lung capacity
---
Quotation
Imagination is more important than knowledge.

Albert Einstein
---
Who should do Silver Sneakers:
Older Adults who want to get in shpae or stay in shpae or just have fun!
Chairs are usde in class, all fitness levels are welcome.
---