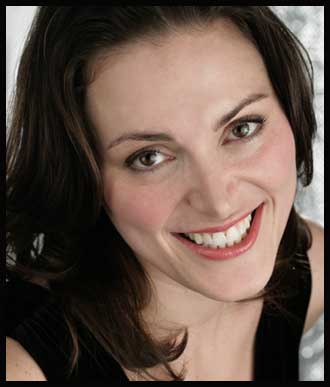 A little about Body Illumination and Rebekah
Rebekah Aramini Lupo has been passionate about the integration of mind / body / spirit all of her life. "Wellness and fitess should be a discovery process not a chore. There is magic inside each of us - we just need to tap into it to allow it to be realized." "Please check out my Podcast or join my yahoo group and join in - together we can all make a difference in each other's lives." Visit my recipes and tips!
Wellness and fitness expert, actor, writer, designer and artist, Rebekah has a unique approach to wellness. "It is a life-style that affects every aspect of our life."
---
Testimonials
Send your own testimonial to Rebekah at Rebekah@BodyIllumination.com
" Flowing, Smooth, Strong. You can Feel the Energy.
Rebekah is in the house!!"

"I had the pleasure of experiencing Rebekah's step and kick box classes and miss them dearly. They say everyone excels at something and Rebekah excels in many areas, with this being her finest. She is a born leader and has enriched many lives with her training methods. I wish she was back in front of my classroom, but realize that is being selfish, and there are many people out there who will be fortunate to have her help them reach their exercise goals." Paul J. Lotito

"Pilates is addictive and so is Rebekah!!! As a mother of three young children, finding time to exercise is always tough...however,the energy Rebekah demonstrates in class and the workout definitely make it worth the effort!!! With Rebekah, I quickly learnt to really enjoy the physical and mental benefits of her classes. Pilates challenges my body to become stronger and more flexible and my mind to become more focused and positive"
Irit Maor

"I had never tried Pilates before, but one class with Rebekah and I was hooked! She gave me a much better understanding of not only the exercises themselves, but how they were benefiting my core, and ultimately shaping me with a better mind and body."
Michelle Rhodes

"You will get an amazing total bodyworkout....all the time
-- her cardio workouts are exceptional, high energy and fun!!!"
Dee DelPadre Picone

"I'm a big fan of Rebekah's Kickboxing and Step classes. When I first started, I was a novice to aerobics classes. My first class with her was a step class and I didn't know the first thing about it- what was a U step? a K-step? It was all foreign to me. I was a little nervous- I thought for sure I wouldn't know what to do and I'd make a fool of myself, but she explained everything so well, I felt like a pro! After that I was hooked! Rebekah is such a motivator; she's always so upbeat and enthusiastic- you forget it's a workout and just have fun!"" Kathleen LaVigne

"Rebekah did a wonderful job explaining even the most basic moves and was always willing to model them for me or help me adjust my position. She was adept at adapting moves to my level of ability and flexiblity and very responsive to any requests for help with or emphasis on certain postures or aspects of yoga." Kerry Sabbag

"The worst thing about Rebekeh's abs class is how effortlessly she does things that put you in excruciating pain. That said, I have been consistently lifting weights and doing my own form of abs for 14 years and nothing compares to her class. She packs more into to 20-30 minutes than I used to do in three 30 minutes sessions. The results are unparalleled. " Chris Peel

"I was new to yoga and, over the past few years Rebekah's patience and coaching have helped me to better my form and take my practice to the next level. Rebekah is such a positive teacher who sensitive to the needs of each student. She creates a safe, fun environment that helped me to gain the confidence to venture into yoga studio classes, further expanding my horizons." Donna Ferrera

"I took Rebekah Aramini's yoga class consistently for approximately two years. Primarily, I took the class because it was a tremendous work out. I feel as though I improved my flexibility and strength as a result of the class. In addition, I found the class to be an enlightening experience.

I truly believe that it enhanced my understanding of the mind-body connection. It helped me to decrease my stress level and to think of problematic situations in a more positive light. I feel that Rebekah's ability to integrate the physical and emotional aspects of yoga made each and every class a wonderful experience." Amy O'Connor

"Prior to my study of yoga, I had the opportunity to participate in a number of Rebekah Aramini's exercise classes. In each class Rebekah invested the time to demonstrate the proper technique, observe and correct our techniques, and provide personal instruction/advice after class. This was done to connect with each member of the class to improve their fitness and well being.
She is an energetic, involved teacher who was an extremely popular instructor due to her style of teaching—complete knowledge of the subject, encouragement/help to achieve the proper technique, providing the background of the technique—the purpose/ goal etc.

In each instance Rebekah strived to make herself a better teacher and everyone in her class a better student and person. For approximately 10 years I have observed Rebekah Aramini's teaching manner and the qualities inherent in her being is what she has brought to Yoga.

She is now "living the life of the Yogi' and I have been lucky to have practiced Ashtanga Yoga under the "yogi" Rebekah for 4 years. I would welcome the opportunity to be a "yogin" in her class again."
John Kent

"Rebekah is a great instructor. She is very knowledgable and always provides a challenging workout. I definitely recommend taking her classes." Jennifer Jarmark

"Rebekah is an immensely encouraging and motivating teacher. She gives a very well rounded class. You will leave with an extremely gratifying experience and be anxious to join her again." Amy Mancini

"For someone much younger, Rebekah knows how to connect well with the seniors in our Silver Sneakers classes. In spite of our perceived physical limitations, she inspires us to improve by her encouragement and empathy. We feel safe under her care.

Her depth and breadth of knowledge (yoga, Pilates, aerobics, weight training, boxing, etc.), her preparation, her imaginative explanations, and her nuggets of wisdom are all woven into the texture of the class. But what I love is the accompanying music from her iPod playlist. It is always changing, appropriate for the activity and adds a very important dimension.

We leave her class with an expansive feeling that we carry into our daily lives. And our bodies are stronger and more flexible!" Eileen Julian

I have studied Pilates and been part of Rebekah's toning/fitness classes for over a year now. She is one of the most energetic, innovative and caring fitness instructors I have come across in 10 years of working out at gyms in Tokyo, New York, and LA."
Sheila Phalon

"I have taken a variety of Rebekah's classes (pilates, abs, yoga, etc) over the last 5+ years and I keep going back. I think it is a combination of her dedication and sincere interest in her student's well being, coupled with the variety, intensity and great music that make for an incredible workout. I am consistently satisfied with every class and that is something I have never experienced with a single instructor before." Alison Tamburelli

"I've taken Rebekah's spin and yoga classes, and she is truly a great teacher. She's knowledgeable and she's generous. Unlike some instructors who are more concerned with getting in their own workouts during class, Rebekah pays attention to each student to make sure everyone is doing the moves correctly--stepping in and adjusting to make sure everyone is getting the best possible workout." Linda Rodgers

"I have been taking taking Yoga and Spin classes from Rebekah since 2006. I find her classes inspiring and invigorating. When I come out of some spin classes, I feel winded (like I need a rest); but not after Rebekah's spin classes. AFter her spin classes, I feel I've worked hard, yet I'm energized to continue the rest of my day.

Yoga is a true spiritual practice and having been a Syda Yogi, I can sincerely state that Rebekah bring out the spirituality fo the practice during her yoga classes. I especially like that she allows the class to set an intention for the class. That moment centers me and I am able to be present in the class. No matter how many people are in the class, she still manages to give personal attention. Due to her style of instructing, it makes me want to challenge myself.

I miss her classes very much because she no longer teaches at NYSC north. I wish she would return; however, when she subs for any instructor, it's a treat!" Sandy Singh